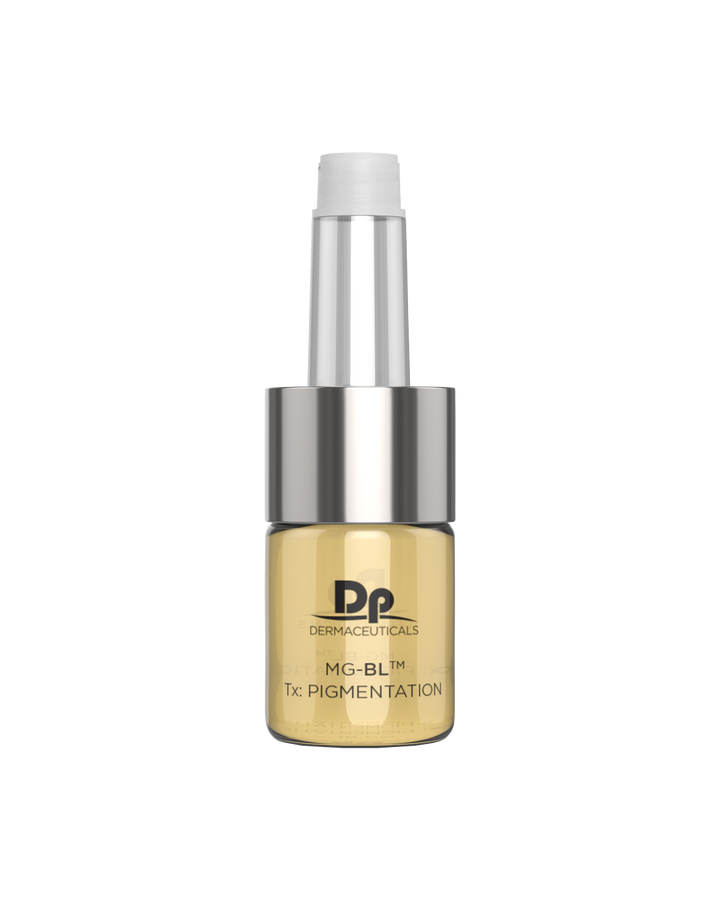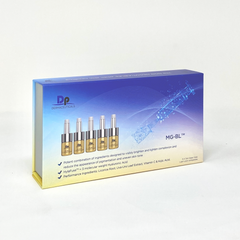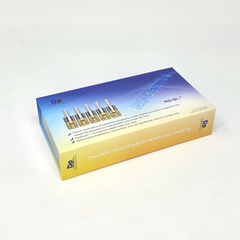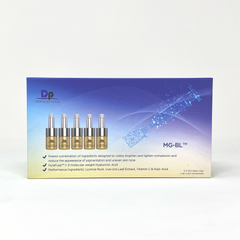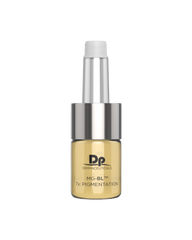 MG-BL (BOX OF 5)
HylaFuse Provider
0 ( 0 )
MG-BL was formulated to improve the appearance of hyper pigmented and melasma-affected skin.
More Info...
Regular price

Sale price

$104.00
MG-BL
Our premixed Meso-Glide professional grade solutions offer you convenience as well as a premium formulation in one easy-to-use glass vial. The MG Collection ensures you can deliver biocompatible actives with new cutting-edge technologies safely into the skin. Suitable for use with microneedling, meso-therapy treatments, and other rejuvenation procedures, the MG Collection represents the ultimate standard in infusion protocols.
Packaged to the highest Good Manufacturing Practice (GMP) standards, the sterile pressure-vacuum sealed packaging features a convenient silicone dispenser nozzle with a Iuer-Iock tip, enabling it to be dispensed into an ACM kit receptacle, or drawn up with a sterile luer-Iock syringe for procedural use.
Packaging Features
Individual sterile glass vials.
Squeezable silicone nozzle for easy direct dispensing.
Compatible with Luer-Lock syringes for meso-therapy, or more direct topical placement with cannula.
Treatment of unwanted hyperpigmentation is one of the most common reasons for people to look to medical aesthetics for a viable solution. MG-BL is a highly specialized treatment serum aimed at addressing various types of hyperpigmentation. Bioactives in the MG-BL formulation work to normalize melanocyte activity and prevent melanin overproduction due to injury, free radical exposure, sun damage, as well as other intrinsic and extrinsic factors.
Benefits:
Helps regulate production of melanin in the skin
Brightens skin and helps reduce the appearance of melasma
Helps to minimize the appearance of enlarged or dilated pores
Helps fight signs of sun damage, including pigmentation, fine lines and wrinkles
May assist in reducing the appearance of PIH due to scarring
HYALURONIC ACID (HylaFuse Complex) (10mg/mL) - HylaFuse Complex is Dp Dermaceuticals' own uniquely developed hyaluronic acid formulation, which features three varying weights of the hyaluronan molecule. HylaFuse is clinically proven to absorb 150% more effectively into the the skin, meanwhile encapsulating other bioactives, and carrying them deeper into the skin.
SODIUM ASCORBYL PHOSPHATE (Vitamin C) (2%) - Sodium Ascorbyl Phosphate (SAP) is a naturally occurring water-soluble derivative of vitamin C. It is a powerful antioxidant that is known to promote collagen formation and fight acne. It also purported to provide photoprotection, increase the effectiveness of sunscreen, lighten skin tone and fade discoloration.
KOJIC ACID (2.5%) - Kojic Acid is a tyrosinase inhibitor produced from various types of fungi, fermented soy sauce and rice wine. It has many benefits, including antioxidant, antibacterial, and anti fungal properties. Due to its incredible ability to penetrate the skin and halt the production of melanin, it is often thought of as a less aggressive alternative to hydroquinone, which can be too irritating for sensitive skin.
UVA URSI (1%) - UVA URSI is a small shrub that produces glossy, red fruits and grows in the mountains of Asia, North America, and Europe. It is well regarded for its ability to brighten skin as a natural source of hydroquinone, which helps lighten skin and dark spots. It also has antioxidant and astringent properties. In addition, uva ursi contains ursolic acid, which has demonstrated powerful anti-carcinogenic effects..
INGREDIENTS: Water, Glycerin, Sodium Hyaluronate, Hyaluronic Acid, Kojic Acid, Sodium Ascorbyl Phosphate, Glycyrrhiza Glabra (Licorice Root) Extract, Arctostaphylos Uva-Ursi (Bearberry) Leaf Extract, Copper tripeptide-1/Bis (tripeptide-1) copper acetate, Polysorbate 20, Xanthan Gum, Phenoxyethanol, Caprylyl Glycol, Ethylhexylglycerin
All MG solutions are intended for professional in-clinic use only.
Each MG solution can be used as a stand-alone topical to be infused into the skin during a microneedling treatment, or it can be combined with MG-HA35 or MG-35+ at a 1:1 ratio.
To use, apply the appropriate MG solution to one area at a time to cleansed, disinfected skin and proceed with a microneedling treatment as per instructions.
If any treatment solution is left over at the conclusion of the treatment, the resealable, lure-lock compatible top lid enables the practitioner to prescribe any remaining solution to patient post treatments. Remaining solution should be refrigerated until ready for use.