01
Clinical Consultation
Set your Skin Goals
An authorized treatment provider will help you set your skin goals by explaining the treatment process, including how many sessions you'll need and how long you'll have to wait between sessions. Then, they will get you ready for your first procedure by providing you with the appropriate Dp Dermaceuticals™ products to ensure that your skin is adequately prepped and ready for treatment.
02
Preparing Your Skin
Get Ready for Your First Procedure
Prepping your skin with Dp Dermaceuticals before undergoing a clinical procedure boosts treatment outcomes, reduces downtime, and speeds up healing to ensure that you achieve your skin goals faster. Be sure to follow your provider's recommendations for the best possible results.
Explore Your Prep Options with Dp Dermaceuticals
03
Clinical Procedure
Microneedling with Dp4™
A clinical treatment consists of a creating very fine micro-channels in the skin with a DP4 Microneedling Pen , paired with potent, clinical-grade skincare that will enhance and improve the treatment results. Depending on your skin type and skin goals, your treatment provider will recommend the best possible product options.
04
Enhance Results at Home
Dermapen HOME™
The healing power of light offers an extra boost of collagen and elastin stimulation, which helps to decrease fine lines and wrinkles and the appearance of pigmentation, sun damage, and dehydration. That's why, after rejuvenation procedures like microneedling, Dp Dermaceuticals L.E.DTM is the go-to product.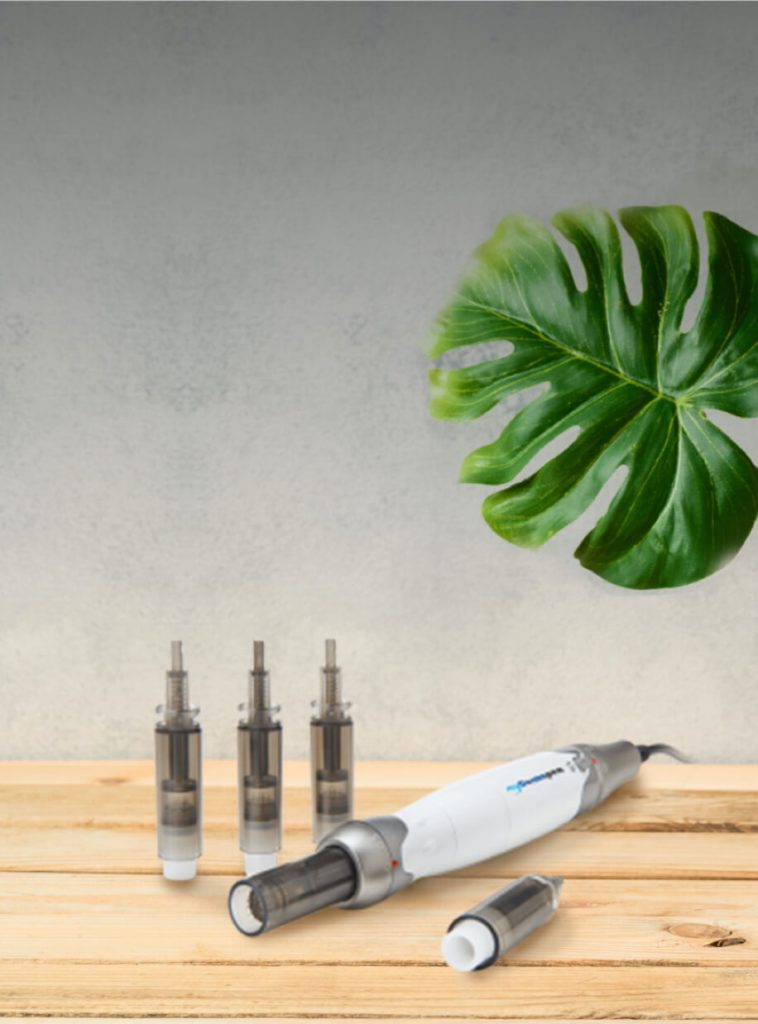 Proven, natural rejuvenation at home
Little to no discomfort
Repair fine lines and wrinkles
Plump and firm ageing skin
Minimise pores & acne
Reduce redness
Refine uneven skin tone
Adjustable needle depth and speed settings
Medical-grade speed for faster results
Sterile single-use needle cartridges
Dp Dermaceuticals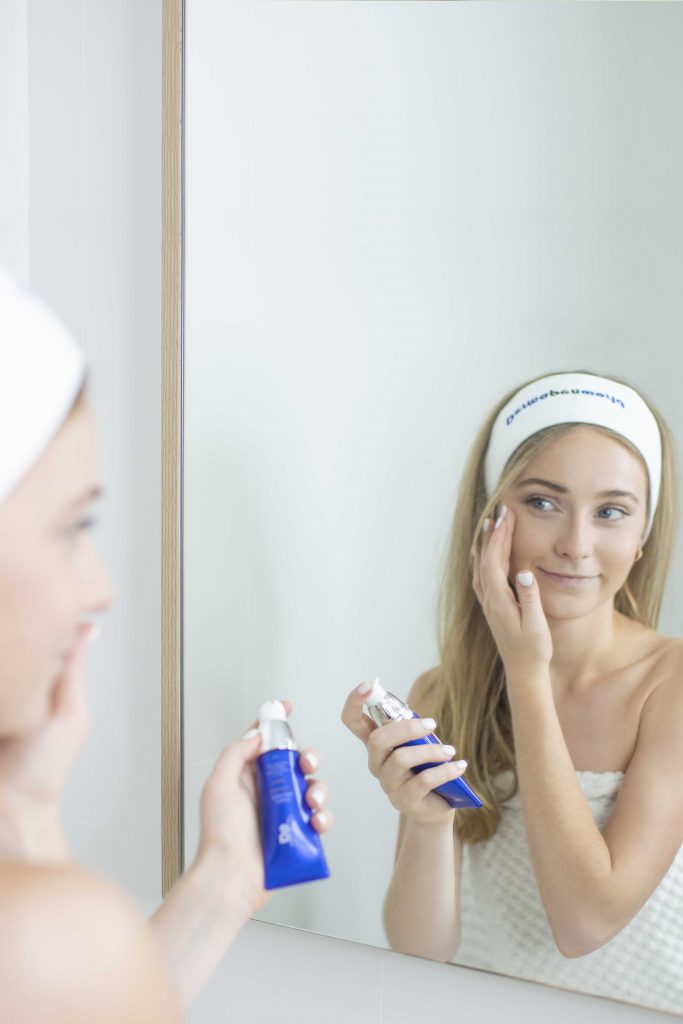 Bioactive, botanical & natural ingredients
Potent hyaluronic acid HylaFuse™ complex for intense hydration
Bespoke formulas for all skin concerns
Hypoallergenic, non-comedogenic
Not tested on animals
Science inspired by nature
Safe to use with microneedling
Enhances visible results
Full range for daily routine
For all Fitzpatrick skin types
Dp Dermaceuticals L.E.D.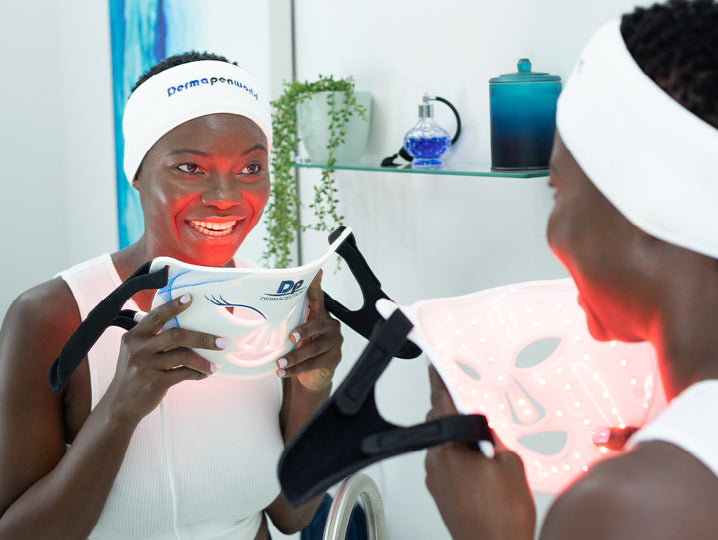 Plumps & smooths skin
Diminishes fine lines & wrinkles
Smooths uneven skin including age spots
Reduces pigmentation
Hydrates & refreshes
Boosts serotonin
Non-invasive
Flexible, comfortable silicone construction
Red (633nm) & infrared (830nm) light rays
Direct contact with skin ensures optimal light coverage and penetration
Real Clinics. Outstanding Results.
I am very impressed with the results I've seen on my patients after treating them. The procedure is very easily tolerated by the patient, there is minimal downtime and it's cost effective for the patient. I've seen great improvement to treat fine lines, wrinkles, superficial scarring as well as texture and pore size. As a provider, I like that I can customize each treatment depending on my patient's needs and there is always a predictable outcome. I foresee this being a very successful treatment option in our practice.
Angela Terry
Clinical Aesthetician
Dp4 Microneedling is an advanced treatment with impressive results, we find it perfect as a combination therapy with for instance PRP. It is very rare to find a relatively simple and cost effective, but still versatile device with the results on a vast variety of skin conditions that we have seen with this device. Quality is a lead word in all we do at Agdeliuskliniken, and for us it was natural to choose the market leading microneedling device with the best quality needles and excellent support.
Carina Agdelius
Nurse & Clinic Owner
As an experienced Aesthetic Doctor, I have no hesitation in recommending the Dp4 as one of the top non-surgical procedures for skin tightening, lifting and for the treatment of scars. I have found this device to be more effective than other procedures involving lasers and peels for facial rejuvenation and with fewer side effects and downtime. It's ideal either as a stand-alone procedure or in combination with other non-surgical procedures.
Dr Steve Harris
Aesthetic Doctor
In our clinic, this is one of the favorite treatments for patients with the first signs of photoaging. A series of several treatments performed every month gives excellent results of lightening shallow discolorations, increasing skin density and tension, reducing visibility of pores and small wrinkles. It is an excellent neck and cleavage therapy. There are areas that are difficult to treat. Thanks to the intensification of skin regeneration processes, this device densifies it well, which gives the effect of skin tension in these areas.
Dr Joanna Buchowicz
Dermatologist
Choosing a selection results in a full page refresh.
Press the space key then arrow keys to make a selection.
Net Orders Checkout
| | | | |
| --- | --- | --- | --- |
| | | Subtotal | $0.00 |
| | | Shipping | |
| | | Total | |
---
Shipping Address