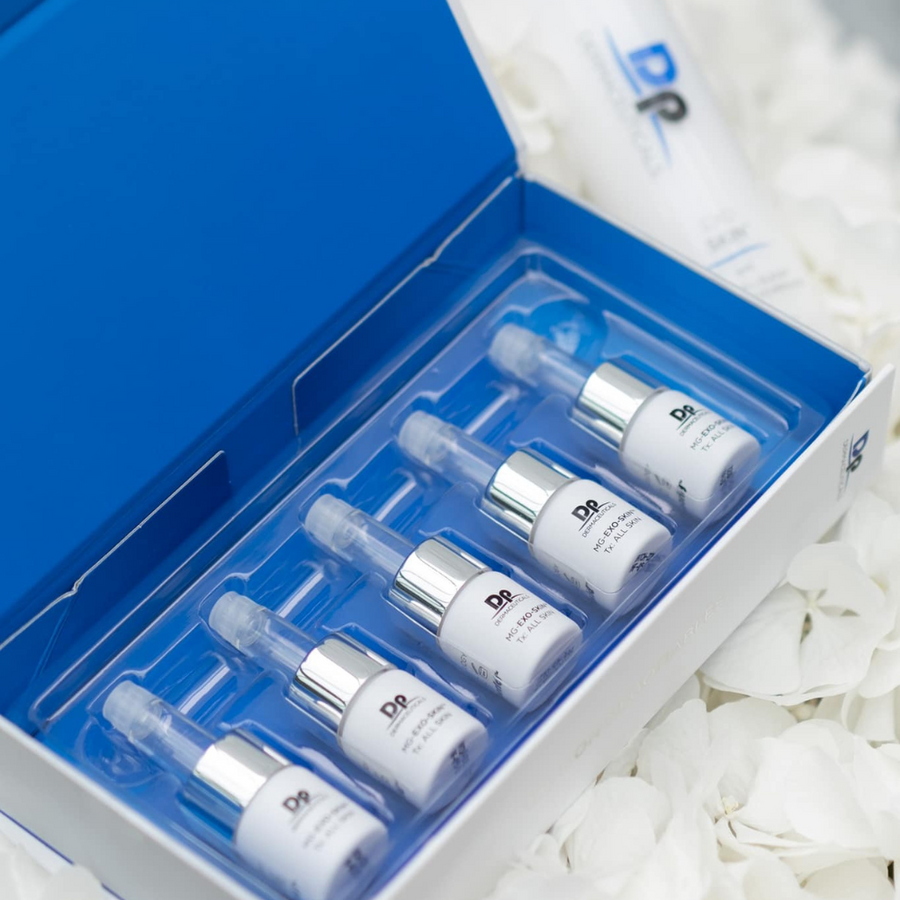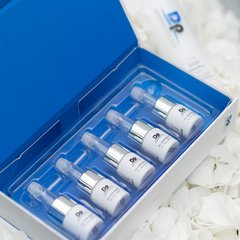 MG-EXO-SKIN™ PROFESSIONAL IN-CLINIC FORMULA
MG Collection
0 ( 0 )
Dp Dermaceuticals™ MG-EXO-SKIN™ serves as the new non-negotiable for in-clinic regenerative procedures. Pioneering the purest exosomes, harvested from Wharton's Jelly-derived mesenchymal stem cells, only MG-EXO-SKIN™ revolutionises aesthetic treatments with a dual HylaFuse™ and Calphasome™ delivery systems.
This pack contains 5 X 5ml MG-EXO-SKIN™.
More Info...
Regular price

Sale price

$595.00
Dp Dermaceuticals
MG-EXO-SKIN™

- WHSL
Our premixed Meso-Glide professional grade solutions offer you convenience as well as a premium formulation in one easy-to-use glass vial. The MG Collection ensures you can deliver biocompatible actives with new cutting-edge technologies safely into the skin. Suitable for use with microneedling, meso-therapy treatments, and other rejuvenation procedures, the MG Collection represents the ultimate standard in infusion protocols.
Packaged to the highest Good Manufacturing Practice (GMP) standards, the sterile pressure-vacuum sealed packaging features a convenient silicone dispenser nozzle with a Iuer-Iock tip, enabling it to be dispensed into an ACM kit receptacle, or drawn up with a sterile luer-Iock syringe for procedural use.
Packaging Features
Individual sterile glass vials.
Squeezable silicone nozzle for easy direct dispensing.
Compatible with Luer-Lock syringes for meso-therapy, or more direct topical placement with cannula.
Exosomes – the birth of a regenerative force
Dp Dermaceuticals™ MG-EXO-SKIN™ serves as the new non-negotiable for in-clinic regenerative procedures. Pioneering the purest exosomes, harvested from Wharton's Jelly-derived mesenchymal stem cells, only MG-EXO-SKIN™ revolutionises aesthetic treatments with a dual HylaFuse™ and Calphasome™ delivery systems.
Reproducing the natural environment of exosomes, MG-EXO-SKIN™ does not require refrigeration and promotes maximised potency without lyophilisation or dramatic temperature changes. As with all Dp Dermaceuticals™ products, there are no bovine or ovis by-products, guaranteeing an ethical approach from harvest to manufacture.
Protected by an opaque, glass, double-sealed, single-use vial, MG-EXO-SKIN™ contains an unparalleled complex of redox agents, reactive oxygen species scavengers with antioxidant biofl avonoids, tannins and polyphenols. This skin corrective complex is certifi ed tested for purity, potency and safety.
As a new regenerative force, MG-EXO-SKIN™ removes the complications of autologous procedures, to awaken skin function with predictable youthful vitality
Just like all specially formulated serums in the MG-Collection, MG-EXO-SKIN™ is designed to complement in-clinic microneedling procedures and mesotherapy. It is also suitable to use as a topical serum post-laser and other professional rejuvenation treatments. However, in a world-fi rst, thanks to its potent active ingredient—Exosomes, Dp Dermaceuticals™ MG-EXO-SKIN™ is a game-changer.
Partnering with the most progressive innovators in stem cell research, DpermapenWorld™ has sourced ethically derived Exosomes from Mesenchymal Stem Cells (MSCs) of human umbilical cord. These are multipotent, highly versatile, the youngest and purest source.
With about 7,000 Exosomes capable of fitting on the end of just one 33G Dp 4™ pen needle, automated microneedling is the most e ective delivery mechanism of Exosomes into skin, without compromising the Exosomes.*
The combined therapy allows the regenerative capabilities of Exosomes to accelerate results of microneedling to help improve many skin conditions including sun-damaged, ageing, rosacea and pigmentation.
*As minute, nano particles, Exosomes are highly temperature sensitive. As such, Dp Dermaceuticals™ supports their natural environment, which thrives between 20°C/68°F and 37.2°C/99°F. The use of themolytic or radio frequency delivery, melts lipids and compromises exosome and protein integrity.
To further maximize the results of in-clinic procedures with MG-EXO-SKIN™, patients are required to continue at home skin rejuvenation protocols with Dp Dermaceuticals™ EXO-SKIN™. The non-negotiable dynamic duo delivers an exciting force in regenerative medicine, revolutionizing aesthetic procedures, skin health and quality.
ULTIMATE BENEFITS
Maximised potential of skin regeneration
Boosts natural cellular repair, signals for more youthful looking skin
Proven to help reduce the appearance of ageing skin, pigmentation and rosacea
Pure Wharton's Jelly derived, MSC sourced exosomes
Ethically sourced
Promotes normalised and youthful regeneration
Renews and refreshes for revitalised function
PERFORMANCE INGREDIENT
Exosome
Mesenchymal Stem Cells (MSC) derived exosomes have been shown to enhance collagen synthesis, angiogenesis, cellular proliferation and to support wound recovery.
An exosome is a nano, extracellular vesicle found in cells, particularly in human stem cells. They contain biomolecules such as proteins, lipids and nucleic acids and act as messengers from stem cells to other cells. They play a vital role in intercellular communication, tissue healing, regeneration and repair.
Wharton's Jelly derived MSCs and exosomes promote wound healing by speeding up wound closure, reducing cicatricial healing/scar formation, regulating collagen fi bre distribution and supporting the regeneration of adnexa (skin appendages, including hair and sebaceous glands, nerves and blood vessels) via TGF- β receptor inhibition. It is argued that only human MSCs-derived exosomes have been shown to activate the regenerative factors required to promote e ective wound healing, rejuvenation and repair.
The exosomes released by younger stem cells (such as Wharton's Jelly derived), carry youth and health have been proven to be very powerful in regulating regenerative processes in the body. Subsequent rejuvenation, particularly of the skin can be activated and enhanced for maximised repair and correction.
Exosomes do not change the DNA of a cell. They are not gene therapy.
Exosome benefits:
Promote regulated wound healing
Boost the synthesis of collagen and elastin
Support cellular di erentiation
Enhance angiogenesis
Inhibit cicatricial healing
FULL INGREDIENT LIST
Human Umbilical Mesenchymal Stem Cell Conditioned Media, Water (Aqua), Hydrolyzed Sodium Hyaluronate, Aloe Barbadensis Leaf Juice, Sodium Ascorbyl Phosphate, Sodium Hyaluronate, Hydroxyapatite (Calphasomes), Panthenol, Zinc PCA, Phenoxyethanol, Ethylhexylglycerin.