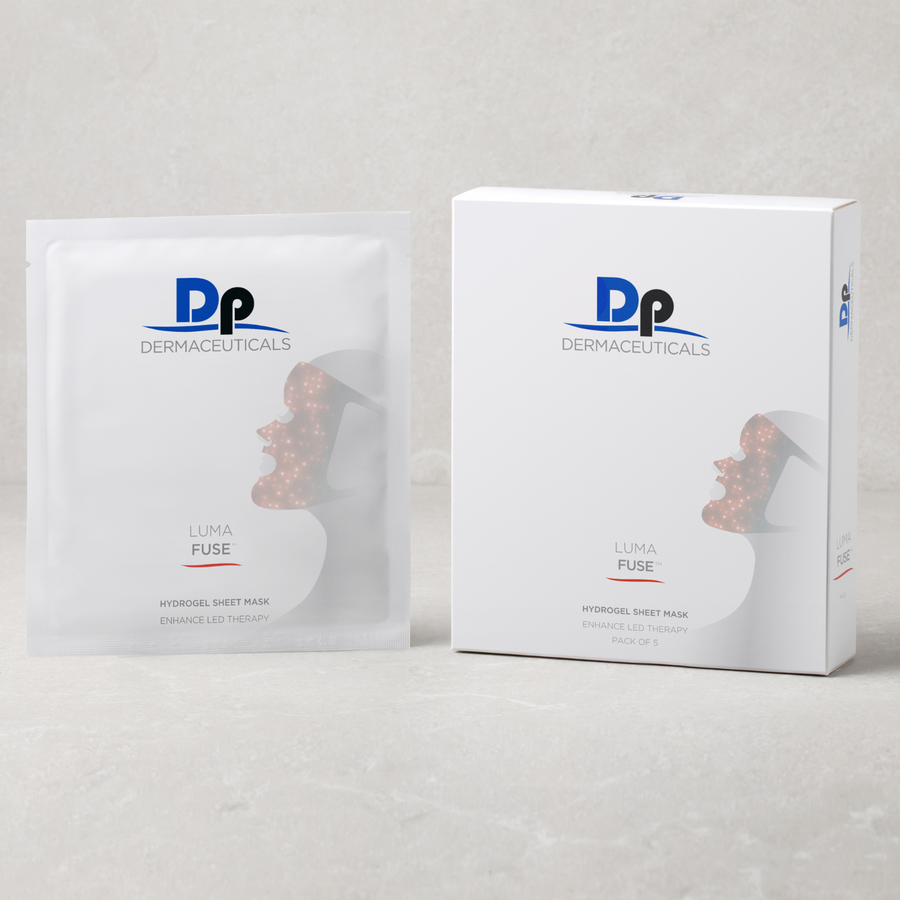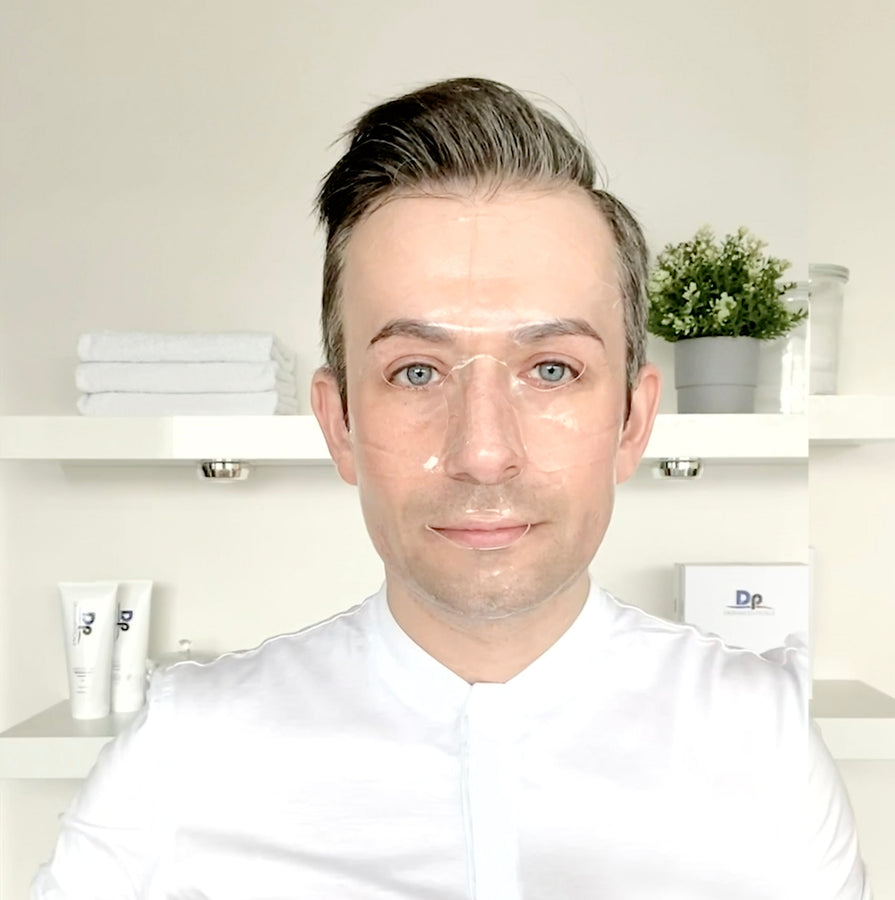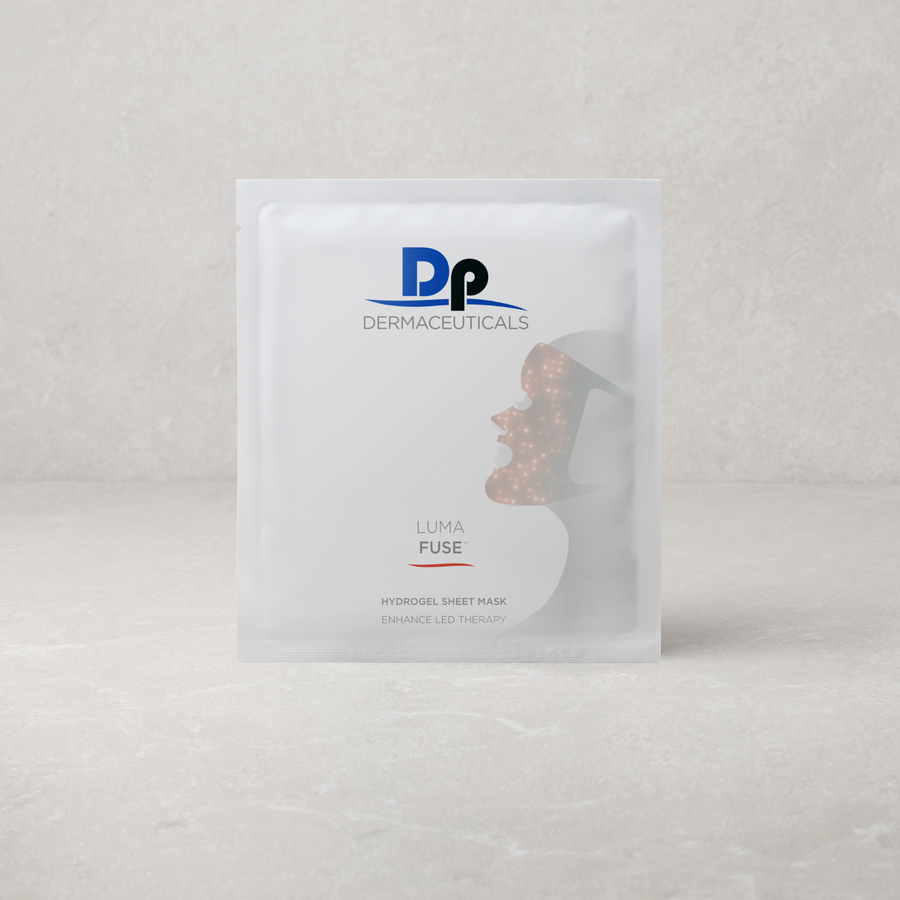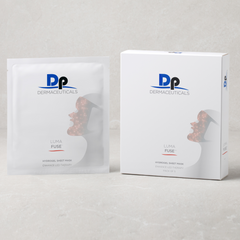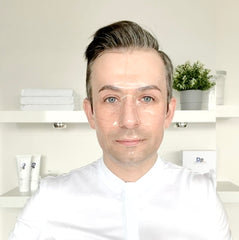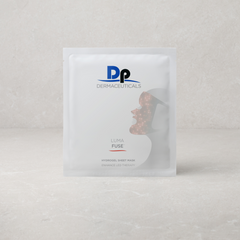 LUMAFUSE HYDROGEL SHEET MASK (BOX OF 5)
Masks
5.0 ( 1 )
This unique hydrating sheet mask was specifically designed to be used with any LED light therapy treatment. The LED light absorbs through the hydrogel for enhanced penetration of both the actives and light.
More Info...
Regular price

Sale price

$99.00
LUMAFUSE HYDROGEL SHEET MASK
LUMAFUSE™ HYDROGEL FACE SHEET MASK is a multifunctional skincare product that works in synergy with Dp Dermaceuticals™ skincare, LED light therapy, or as a stand-alone rejuvenating mask.

This intensely hydrating sheet mask is jelly-like in consistency and packed with revitalizing active ingredients such as Niacinamide, Sodium Hyaluronate, Camellia Sinensis Leaf Extract, and Liquorice Root Extract.

It helps increase cell functionality, reduce inflammation, and calm visible redness from rosacea. Enjoy a more even complexion by minimizing dark spots and pores.
Used in tandem with LED light therapy, the benefits are twofold:
Maximizes the rejuvenating light penetration into the skin
LED infuses restorative actives in LUMAFUSE deeper into the skin
For next-level results, we recommend using the flexible silicone Dp Dermaceuticals L.E.D.™ FACE that sits closer to the skin for optimal light penetration.
LED light therapy using LUMAFUSE HYDROGEL SHEET MASK has been proven to:

Enhance phototherapy results
Firm, hydrate and nourish the skin
Increase absorption of nutrients to the skin
Specifically formulated and designed to let photons of light emitted by the LED pass through into the skin
SKIN TYPES AND CONDITIONS
Dp Dermaceuticals L.E.D. is suitable for all skin types inclusive of dry, aged, oily, sensitive, problematic, and sun damaged.
KEY BENEFITS:
Dp Dermaceuticals L.E.D. combined LUMAFUSE HYDROGEL SHEET MASK with has been shown to assist with:
Redness reduction, including post-treatment inflammation

Plumping skin, reducing fine lines and wrinkles
Smoothing and brightening dull complexions
Reducing pigmentation and age spots
Cell nutrient exchange
Minimizing pores
Improving skin hydration
A hygienic barrier for in-clinic treatments
Booster - Upgrade and enhance standard LED procedure results
Works in synergy with topical creams and Dp Dermaceuticals skincare, LED light therapy, or stand-alone us
Dp Dermaceuticals L.E.D. benefits for SALONS: 
Top-up treatments with L.E.D. enhance results which will give great customer satisfaction
Opportunity to generate revenue through the skincare range available
Satisfied customers are loyal customers; client retention will be high
No large investment to get you started in proven LED Technology
L.E.D.

 

is fully regulated; safe and effective
Exposure to a wider clientele will generate new customers for the salon
Sell your client combination treatments that enhance the rejuvenation journey
DAILY USE:
Prepare skin using a cleanser or exfoliator. Once the skin is cleansed and free of makeup, apply the LUMAFUSE HYDROGEL SHEET MASK evenly and smoothly across the face.

For best results, we recommend combining with Dp Dermaceuticals L.E.D. FACE.
LED benefits for HOME PATIENTS:
LED therapy is cumulative; using it regularly in between salon visits will enhance the results
LED is clinically proven; the science speaks for itself
Portable, easy to use, flexible, and comfortable; fits in with your lifestyle
Anti-aging benefits, preventative, special occasions, mood-enhancing
Niacinamide - Clinically proven to reduce the appearance of acne, increase skin moisturization and improve the look of aging skin and uneven tone.

Sodium Hyaluronate - Also known as Hyaluronic Acid—Sodium Hyaluronate is an effective hydration booster. Smoothing and softening, reduces skin irritation and flakiness and improves wound healing. It helps soften the visible effects of wrinkles and scars.
Camellia Sinensis Leaf Extract - A potent antioxidant, antibacterial botanical, and tyrosinase-inhibiting extract. It scavenges free radicals and reverses oxidative damage to skin cells.
Liquorice Root Extract - Intensive pigment regulator that sedates excess production while fading existing spots and discolorations. The skin becomes visibly clearer, brighter, and even.
INGREDIENTS: Water (Aqua), Bambusa Arundinacea Stem Extract, Emulsifying Wax NF, Glycerin, Lactic Acid, Stearic Acid, Aloe Barbadensis Leaf Juice, Simmondsia Chinensis (Jojoba) Seed Oil, Butyrospermum Parkii (Shea) Butter, Mangifera Indica (Mango) Seed Butter, Vitis Vinifera (Grape) Seed Oil, Sodium Hyaluronate, Cucumis Sativus (Cucumber) Fruit Extract, Tocopherol, Disodium EDTA, Fragrance, Phenoxyethanol, Ethylhexylglycerin, Caprylyl Glycol, Hexylene Glycol, Xanthan Gum, Sodium Hydroxide, Beta Carotene, Limonene.