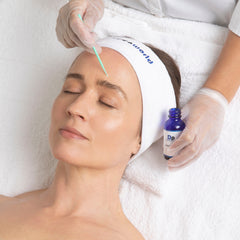 ÜBER MD PEEL (30ML)
Peels
0 ( 0 )
Medical strength peel for addressing scars, stretch marks, and stubborn pigmentation.
*For use by medically trained professional. In-clinic use only.
Download patient consent form here.
More Info...
Regular price

Sale price

$100.00
ÜBER MD PEEL
ÜBER MD Peel is a phenomenal tool for practitioners looking to enhance microneedling treatment results for scars, deep wrinkles, and stubborn pigmentations spots.
Highly potent ingredients in our ÜBER MD Peel create coagulative necrosis effect in depression points or other target areas, subsequently reducing the appearance of these spots.
SKIN TYPES AND CONDITIONS
Suitable for individuals of Fitzpatrick skin type I through III.
Deep wrinkles, advanced aging.
Stretch marks.
Stubborn pigmentation spots.
KEY BENEFITS:
Reduces the appearance of severe, deep aging lines.
Assists in reducing the appearance of scars.
Helps reduce the appearance of uneven skin texture.
Relps reduce hyperpigmentation and even out skin tone.
ÜBER MD Peel is appropriate for application immediately following a microneedling procedure. Shake the bottle well before use.
The peel should be applied in a line or spot application method, NEVER as an all-over application. A hypodermic needle, a toothpick, or another precision applicator can be used.
End point for ÜBER MD Peel is mild erythema, tingling, warmth, as well as frosting.
Generally, ÜBER MD Peel can be applied in up to 2 passes.
When appropriate, ÜBER MD Peel can be layered over ÜBER PRO Peel. In such cases, only one pass of ÜBER MD Peel should be applied to the skin.
TIP: While this peel is self-neutralizing, due to its strength a Hyla Active 3D Sculptured Mask should be used when the desired end point is reached.
TIPS FOR CLIENTS:
Do NOT wash face for 12 to 24 hours after application.
ALWAYS use SPF, such as Dp Dermaceuticals Cover Recover.
TRICHLOROACETIC ACID - assists with cellular turnover and exfoliation, making it ideal for scar revision and anti-aging.
BETALIPOXY ACID - has exfoliating and antibacterial properties, great for oil control and managing problematic skin.
SALICYLIC ACID - antimicrobial and antiseptic properties target problematic skin.
RETINALDEHYDE - collagen rebuilder, a powerful player when it comes to treating deep lines and scars.
PYRUVIC ACID - a potent antioxidant which assist with cellular repair and skin lightening.
PHENOL - keratolytic agent, which aids in penetration and adds to formula strength.
ÜBER MD Peel is NOT suitable as a meso-glide.