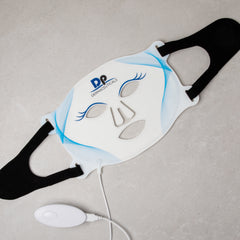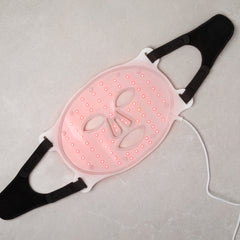 DP DERMACEUTICALS LED FACE MASK
LED Red Light Therapy
5.0 ( 4 )
Get the real deal! Dp Dermaceuticals Face Mask is one of the latest at-home non-invasive LED therapy devices used for reducing fine lines and wrinkles, age spots, sun damage, pigmentation and improving skin texture. 
Recommended use with LUMAFUSE Hydrogel Sheet Mask.
More Info...
Regular price

Sale price

$395.00
Dp Dermaceuticals LED Face Mask
Dp Dermaceuticals LED Face Mask harnesses the latest scientific advancements and research in light therapy to fully optimise your at-home LED treatment, using not only red light but also – harder to find in an at-home device – near-infrared light.
A single 10-minute session of the Dp Dermaceuticals LED Face Mask leaves your skin feeling plumper, more hydrated and refreshed. These results improve with repeated use. After four weeks of three treatments per week:

• 95% agree skin was brighter and plumper
• 98% agree skin felt firmer
• 96% agree fine lines were less visible

LED light therapy is clinically proven to boost collagen and elastin production, visibly reducing fine lines and wrinkles, as well as treating redness, enlarged pores, uneven skin tone, pigmentation, sun damage and dehydrated skin. Use post microneedling treatments to lessen downtime, reduce inflammation and promote circulation to accelerate healing.

LED stands for light-emitting diodes, which are clinically proven to be effective in rejuvenating all skin types.

The Dp Dermaceuticals LED non-invasive treatment is a soothing, calming mask that exposes your face not only to red (633nm) but also near infra-red (830nm) light frequencies which travel deeper into the skin, making Dp Dermaceuticals LED a more effective mask choice.

The mask is made from flexible silicone that comfortably moulds to the contours of your face. Each light sits at an optimal distance from your skin and the strategic placement of the LED lights ensures maximum light coverage.

LED therapy also promotes the production of serotonin. This naturally occurring chemical is essential for sleep, wellbeing and happiness.
To get the best results, apply your Dp Dermaceuticals LED Face Mask 3-5 days a week for a minimum of 4 weeks, then maintain as necessary.
Thoroughly cleanse your skin before use to remove any barriers to light, allowing the rejuvenating wavelengths to penetrate your skin. MICRO DERM EXFOLIANT™ is a versatile cleanser and exfoliant that removes dulling residue and dead skin cells, to ensure maximum light exposure to the active cells.
For best results, use Dp Dermaceuticals LED Face Mask combined with HYDROGEL SHEET MASK, an intensely moisturizing mask that leaves you with a healthy, radiant, glowing complexion.
1. Make sure the battery is charged
2. Slip on the flexible silicone mask securing the straps behind your head
3. Turn on
4. The mask will automatically switch off after 10 minutes
Due to the intelligent design of the Dp Dermaceuticals LED Face Mask, no eye protection is necessary. This area remains uncovered during treatment. However, if you're sensitive to light we recommend relaxing with your eyes closed for the duration of treatment.
Light products, including Dp Dermaceuticals LED Face Mask, are not recommended if you:
Have a genetic predisposition to light,
Have a genetic eye condition, or
Are taking medication that increases light sensitivity.