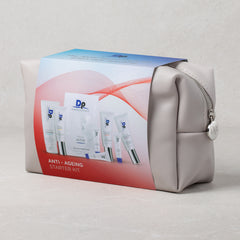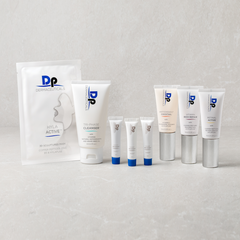 ANTI-AGING STARTER KIT
Skincare Routines Retail
4.8 ( 10 )
From fine lines and deep wrinkles, to lax skin and sun damage, products in Dp Dermaceuticals™ Anti-Aging Starter Kit help maintain and improve the results obtained via clinical micro-needling procedures aimed at retaining the skin's youthful appearance. PRACTITIONERS: Click here for wholesale pricing.
More Info...
Regular price

Sale price

$179.00
Anti-Aging Starter Kit
Not sure which products to use to reduce signs of aging like fine lines, skin laxity, and wrinkles? The Anti-Aging Starter Kit includes everything you need - and the order it should go in - to help you achieve your goal! All of the products in this kit include potent bio-compatible active ingredients that help combat the visible signs of aging. With regular use, your skin will feel smoother, firmer, and more hydrated. It is considered one of the best anti-aging skincare kit by skin care experts nationwide.
AM
CLEANSE: TriPhase Cleanser
TREAT: Antioxidant Cocktail
HYDRATE: Vitamin Rich Repair
PROTECT: Cover Recover
PM
CLEANSE: TriPhase Cleanser
TREAT: HylaActive 3D Sculptured Mask (1 - 2 times per week)
HYDRATE & CORRECT: Retinal Active