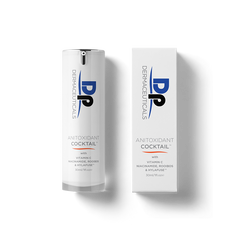 ANTIOXIDANT COCKTAIL (30ML)
5.0 ( 18 )
A customer favorite, it protects and repairs your skin from environmental factors, and rejuvenates it with a powerful combination of anti-aging antioxidants.
More Info...
Regular price

Sale price

$104.00
Dp Dermaceuticals Antioxidant Cocktail
Antioxidant Cocktail is an anti-aging environmental shield that guards against free radical attacks. It reduces the appearance of wrinkles and fine lines by diffusing the aging effects of pollution, stress and prolonged sun exposure. Originally designed to be used directly after microneedling to neutralize free radicals, Antioxidant Cocktail has become a go-to product in the fight against aging, dull skin tone, and skin laxity.
SKIN TYPES AND CONDITIONS
Dry / Combination / Oily
Sun-damaged
Environmentally-damaged
Aged / Prematurely aged
Pigmented
Loose / Sagging
Rosacea
Telangiectasia
KEY BENEFITS:
Fortifies the skin and repairs the signs of sun and environmental damage
Hydrates and revives for a visibly brighter tone
Re-texturizes and smooths the skin for a renewed, refreshed appearance
Restores vitality and energy to erase signs of fatigue
Antioxidant Cocktail can be applied on the skin directly following a microneedling procedure. One or two pumps should give enough coverage for the entire facial region.
As a component of a custom MESO-GLIDE, Antioxidant Cocktail can be very effective when addressing rosacea and telangiectasia. A 1:1 ratio of HylaActive and Antioxidant Cocktail should be used.
DAILY USE: may be applied as a targeted spot treatment for uneven skin tone anywhere on the face or body. For further pigment/acne inhibiting abilities Brite Lite may be used twice daily over an application of Antioxidant Cocktail.
PRE-TREATMENT CARE: Recommended for anti-aging, uneven skin tone and pigmented skins.
POST-TREATMENT CARE: Vitamin C is essential for rejuvenation, skin brightening and complexion improvement. Apply every day to treat these conditions.
VITAMIN C - A potent antioxidant and multi-tasking vitamin that provides intensive environmental protection. Necessary for collagen formation, Vitamin C also regulates excess pigment production. The skin appears smoother and plumper with increased clarity and radiance.
VITAMIN B3 - A versatile anti-inflammatory that promotes regulated pigment and hydration. Redness, irritation and sensitivity are visibly reduced and calmed.
ROOIBOS & ALOE VERA - Patented power peptides that are clinically proved to reduce wrinkle depth and stimulate collagen for a firmer, lifted and rejuvenated complexion.
HYALURONIC ACID (Hylafuse Complex) - A triple weighted Hyaluronic Acid complex that effortlessly absorbs into the skin to promote maximum hydration moisture infusion and long lasting comfort.
HYDROLYZED JOJOBA PROTEIN - Humectant proteins extracted from Jojoba seeds that deliver exceptional water-binding abilities to increase epidermal hydration. Jojoba proteins contain a 75% likeness to the amino acids which form up to 42% of the skin's NMF (natural moisture factor) composition.
INGREDIENTS: Water (Aqua), Magnesium Ascorbyl Phosphate, Glycerin, Aloe Barbadensis Leaf Juice, Niacinamide, Palmitoyl Tripeptide-5, Acetyl Hexapeptide-8, Hydrolyzed Jojoba Esters, Ergothioneine, Sodium Hyaluronate, Aspalathus Linearis Extract, Xanthan Gum, Beta Carotene, Fragrance, Disodium EDTA, Polysorbate 20, Phenoxyethanol, Caprylyl Glycol, Ethylhexylglycerin, Hexylene Glycol, Limonene.
ANTIOXIDANT COCKTAIL can be combined with HylaActive serum for addressing of the following conditions: ROSACEA, TELANGIECTASIA.
NOTE: All meso-glide component ratios are 1:1 for all formulations.