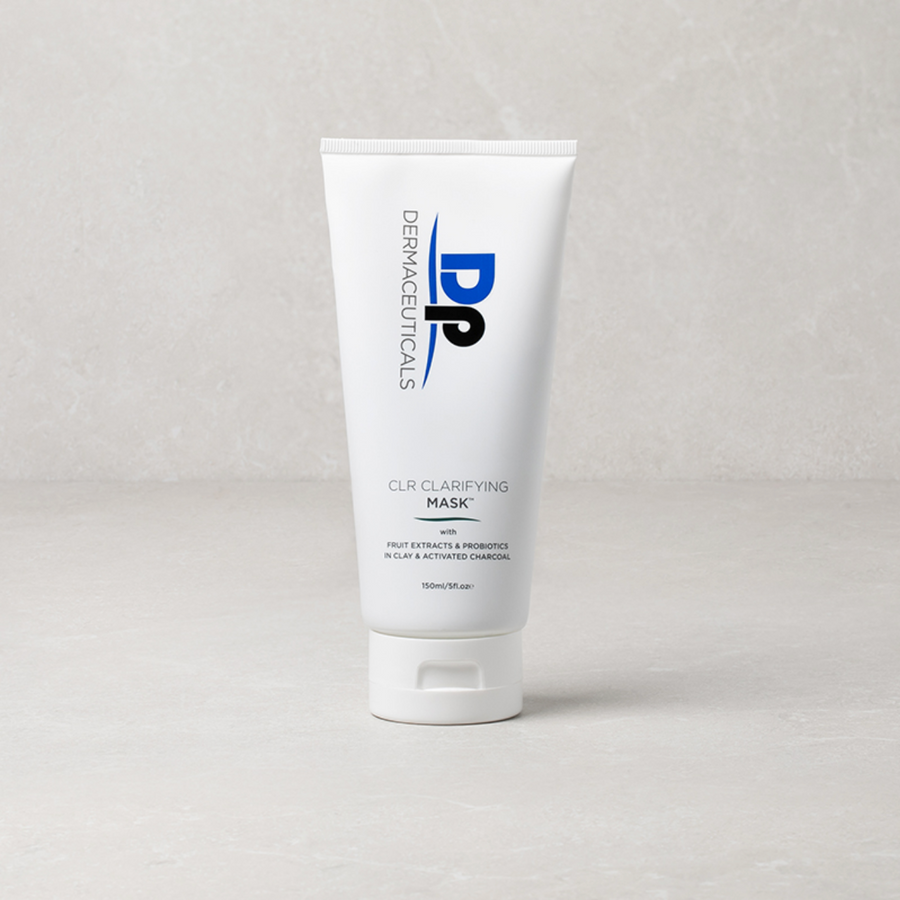 CLR CLARIFYING MASK 150ML - WHSL
0 ( 0 )
CLR CLARIFYING MASK™ helps clarify skin by extracting congestion caused by excess oil, clogged pores, and daily urban pollutants. It's the perfect clay mask for oily and problematic skin types.
More Info...
Regular price

Sale price

$40.00
Dp Dermaceuticals CLR CLARIFYING MASK™ 150ml
Soothe, refine & clarify your complexion.
CLR CLARIFYING MASK™ contains activated charcoal, and a natural blend of earth-derived minerals and clays. It helps clarify skin by extracting congestion caused by excess oil, clogged pores, and daily urban pollutants. It's the perfect clay mask for oily and problematic skin types.
Packed with natural, organic probiotic and antioxidant-rich ingredients, it's gently nourishing while being tough on external aggressors. Kaolin and Bentonite Clay, and activated charcoal are all absorbent ingredients that draw out toxins and excess oil, while vegan Lactobacillus Ferment pre-probiotic reduces acne lesions.
CLR CLARIFYING MASK™ has a clean, fresh scent and doesn't dry out skin. When washed off, skin is left feeling nourished, hydrated, and a clarified and refined complexion is revealed
Packaged in biodegradable, recyclable sugarcane tubes, CLR CLARIFYING MASK™ is brilliant for skin and great for the environment.
The CLR CLARIFYING MASK™ offers the following benefits:
Removes environmental impurities
Balances out oil production and increases cellular turnover
Helps the appearance of skin associated with acne
Effortlessly draws out impurities and unclogs pores
Removes dulling residue and dead skin cells for smoother skin
Leaves skin feeling clean and fresh
Activated Charcoal
This fine powder is the result of regular charcoal that has been exposed to extremely high heat. Each grain has lots of microscopic holes in it, like a miniature sponge. This structure makes the activated charcoal hugely absorbent for toxins and pollution, including dirt and bacteria that can lead to acne.
Activated charcoal benefits:
Helps draw out impurities from the skin for a smoother, clearer complexion
Has antibacterial properties that may reduce acne
Detoxifying & purifying qualities leave skin feeling fresh and clean
Deeply cleanses pores and exfoliates skin without stripping natural oils
Organic Clays
The two organic, natural clays used in CLR CLARIFYING MASK™—Kaolin and Bentonite clay—offer gentle, yet effective, cosmetic benefits to the skin. They help maintain optimal oil levels and remove built-up residue in the skin for a glowing complexion free from blemishes.
Kaolin clay is one of the gentlest clays used in skincare. It's suitable for sensitive and oilier skin types, as it may cause excess dryness on already dry skin. It works by absorbing the oil and moisture from the skin, unclogging pores, and removing toxins.
Bentonite clay has a clarifying effect on the skin. Its absorbent properties mean it can be used on breakouts and oily skin to draw out excess sebum and calm inflammation. Ongoing use helps reduce the risk of breakouts.
Organic clay benefits:
Both Kaolin and Bentonite clays have a clarifying and calming effect on the skin
Suitable and effective ingredients for oily and breakout-prone skin
Smooths skin and soaks up excess oil, residue and toxins
May reduce the risk of further acne and calm inflamed breakouts
Lactobacillus Ferment Pre-Probiotic
This vegan pre-probiotic ingredient is a natural preservative that also boosts radiance by supporting the skin's natural barrier function. It helps alleviate the effect of environmental aggressors and irritants skin faces daily. It supports the balance of good and bad bacteria and has been shown to reduce the appearance of acne lesions and erythema.
Lactobacillus ferment pre-probiotic benefits:
Helpful in killing harmful bacteria and creating a healthy balanced microflora
Soothes skin and calms irritation and redness for an even radiance
Proven to help reduce the appearance of acne lesions and erythema
Vegan, lab-created pre-probiotic ingredient