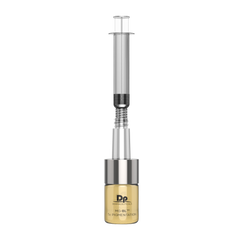 MG-COLLECTION (BOX OF 5)
0 ( 0 )
A collection box containing one of each of our MG formulations.
More Info...
Regular price

Sale price

$109.00
MG-Collection
Our premixed Meso-Glide professional grade solutions offer you convenience as well as a premium formulation in one easy-to-use glass vial. The MG Collection ensures you can deliver biocompatible actives with new cutting-edge technologies safely into the skin. Suitable for use with microneedling, meso-therapy treatments, and other rejuvenation procedures, the MG Collection represents the ultimate standard in infusion protocols.
Packaged to the highest Good Manufacturing Practice (GMP) standards, the sterile pressure-vacuum sealed packaging features a convenient silicone dispenser nozzle with a Iuer-Iock tip, enabling it to be dispensed into an ACM kit receptacle, or drawn up with a sterile luer-Iock syringe for procedural use.
Packaging Features
Individual sterile glass vials.
Squeezable silicone nozzle for easy direct dispensing.
Compatible with Luer-Lock syringes for meso-therapy, or more direct topical placement with cannula.
MG Collection is exactly what it sounds like — a collection of one of each of our MG formulations:
MG-HA35 (1 x 5ml)
MG-HA35+ (1 x 5ml)
MG-BL (1 x 5ml)
MG-CLR (1 x 5ml)
MG-R.A.S. (1 x 5ml)
It's a perfect way to test out each one of these amazing formulas.
All MG solutions are intended for professional in-clinic use only.
Each MG solution can be used as a stand-alone topical to be infused into the skin during a microneedling treatment, or it can be combined with MG-HA35 or MG-35+ at a 1:1 ratio.
To use, apply the appropriate MG solution to one area at a time to cleansed, disinfected skin and proceed with a microneedling treatment as per instructions.
If any treatment solution is left over at the conclusion of the treatment, the resealable, lure-lock compatible top lid enables the practitioner to prescribe any remaining solution to patient post treatments. Remaining solution should be refrigerated until ready for use.