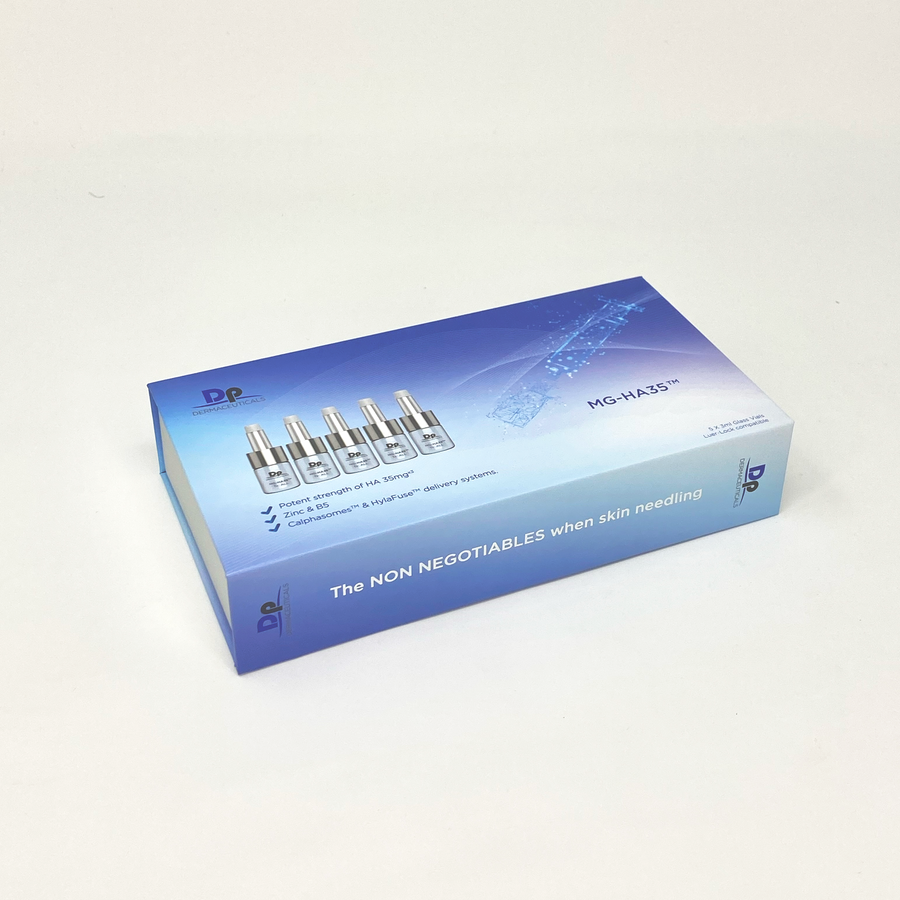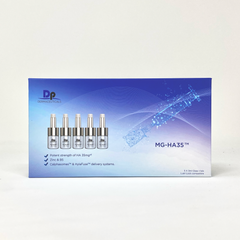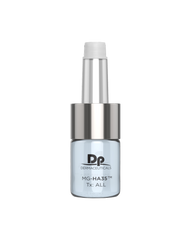 MG-HA35 (BOX OF 5)
0 ( 0 )
Restore, refresh, and enhance your appearance with this potent form of HA.
More Info...
Regular price

Sale price

$104.00
MG-HA35
Our premixed Meso-Glide professional grade solutions offer you convenience as well as a premium formulation in one easy-to-use glass vial. The MG Collection ensures you can deliver biocompatible actives with new cutting-edge technologies safely into the skin. Suitable for use with microneedling, meso-therapy treatments, and other rejuvenation procedures, the MG Collection represents the ultimate standard in infusion protocols.
Packaged to the highest Good Manufacturing Practice (GMP) standards, the sterile pressure-vacuum sealed packaging features a convenient silicone dispenser nozzle with a Iuer-Iock tip, enabling it to be dispensed into an ACM kit receptacle, or drawn up with a sterile luer-Iock syringe for procedural use.
Packaging Features
Individual sterile glass vials.
Squeezable silicone nozzle for easy direct dispensing.
Compatible with Luer-Lock syringes for meso-therapy, or more direct topical placement with cannula.
MG-HA35 is a unique and highly potent solution, which contains an astounding 35mg of hyaluronic acid per mL. The solution also contains the patented HylaFuse Complex which contains 3 varying sizes of the HA molecule, allowing it absorb 150% more effectively that other forms of hyaluronic acid. The formula is further fortified with Zinc and Vitamin B5.
Benefits:
Helps reduce the appearance of fine lines and wrinkles
Restores basal barrier function
Helps strengthen the stratum corneum
Helps reduce inflammation
Increases hydration, softness, and elasticity
HYALURONIC ACID (35mg/mL) - Hyaluronic acid (HA) is the naturally occurring and widespread component found within the extracellular matrix (ECM) and bodily tissues, especially those of the face. A glycosaminoglycan and potent humectant, HA forms up to 13% of natural moisturizing factor (NMF) to hydrate the epidermis and contribute to the skin's protective barrier function. It also helps retain over 1,000 times its weight in water within the cells of skin, making it an excellent moisturizer.
Formulations containing the HylaFuse Complex continue delivering water and active ingredients to the skin for up to eight hours after application, even when skin feels dry to the touch.
CALPHASOMES (2%) - Hydroxyapatite is a mineral obtained from phosphate rock, which works to protect the skin from the hazardous effects of ultraviolet radiations from the sun. As part of the MG-HA35+ formulation, it is a key component of a specialized dermal delivery system for both oil and water based actives.
ZINC (2.5%) - Zinc is a naturally occurring mineral that is well-known for its antimicrobial, anti-inflammatory and antioxidant properties. It not only accelerates wound healing, but is also paramount in collagen and elastin synthesis while promoting the repair of mutated DNA.
PANTOTHENIC ACID (B5) (2%) - Pantothenic acid is a component of co-enzyme A and contributes to the synthesis of fatty acids, thus increasing barrier function and integrity. It has the ability to work as a humectant, physically attracting moisture to the skin's surface and delivering major moisture and nutrients to the deepest layers of the skin. This makes Zinc a good choice in the treatment of dry, scaly or rough skin. Panthenol (a derivative of pantothenic acid) also demonstrates positive results in increasing tissue repair when used on scars or burns.
INGREDIENTS: Water, Sodium Hyaluronate, Hydroxyapatite (Calphasomes), Panthenol (85), Sodium Ascorbyl Phosphate (C), Aloe Barbadensis Leaf Juice Powder, Ethylhexylglycerin, Phenoxyethanol, Zinc PCA.
All MG solutions are intended for professional in-clinic use only.
MG-HA35 can be used as a stand-alone topical to be infused into the skin during a microneedling treatment, or it can be combined with other MG Collection products at a 1:1 ratio for a customized solution.
To use, apply the appropriate MG solution to one area at a time to cleansed, disinfected skin and proceed with a microneedling treatment as per instructions.
If any treatment solution is left over at the conclusion of the treatment, the resealable, lure-lock compatible top lid enables the practitioner to prescribe any remaining solution to patient post treatments. Remaining solution should be refrigerated until ready for use.