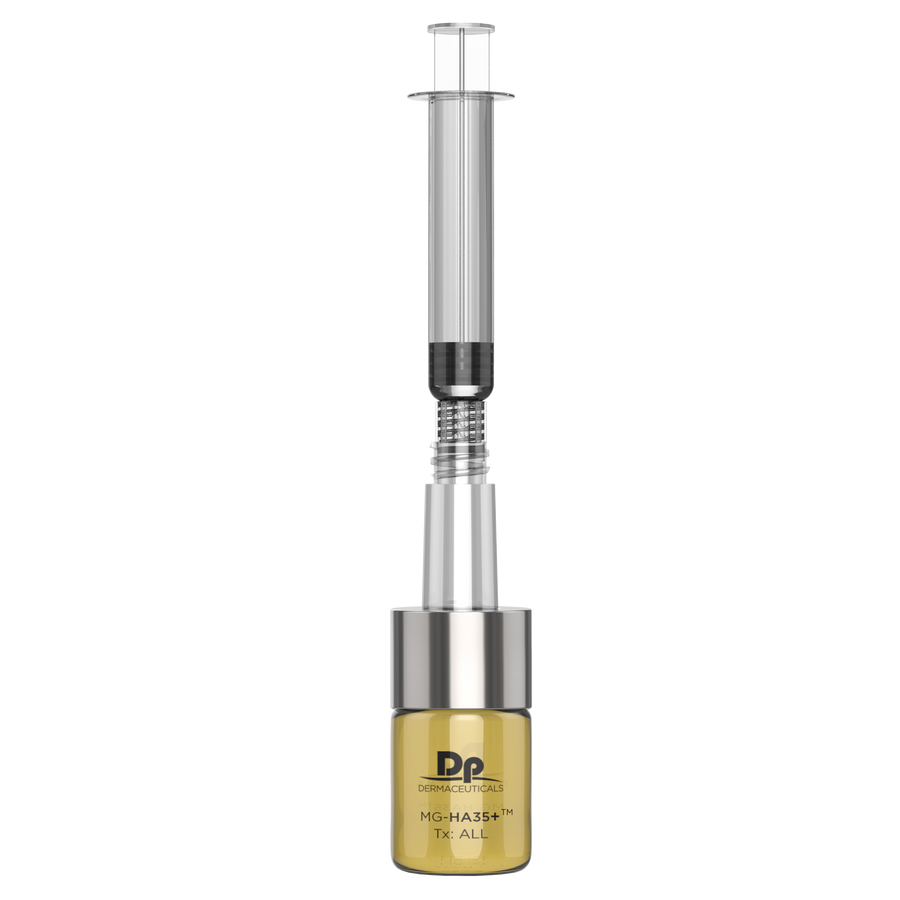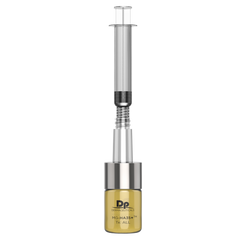 MG-HA35+ (BOX OF 5)
0 ( 0 )
MG-HA35+ was formulated to intensely hydrate the skin and dramatically improve visible signs of aging.
More Info...
Regular price

Sale price

$122.00
MG-HA35+
Our premixed Meso-Glide professional grade solutions offer you convenience as well as a premium formulation in one easy-to-use glass vial. The MG Collection ensures you can deliver biocompatible actives with new cutting-edge technologies safely into the skin. Suitable for use with microneedling, meso-therapy treatments, and other rejuvenation procedures, the MG Collection represents the ultimate standard in infusion protocols.
Packaged to the highest Good Manufacturing Practice (GMP) standards, the sterile pressure-vacuum sealed packaging features a convenient silicone dispenser nozzle with a Iuer-Iock tip, enabling it to be dispensed into an ACM kit receptacle, or drawn up with a sterile luer-lock syringe for procedural use.
Packaging Features
Individual sterile glass vials.
Squeezable silicone nozzle for easy direct dispensing.
Compatible with Luer-Lock syringes for meso-therapy, or more direct topical placement with cannula.
MG-HA35+ is a unique and highly potent solution, which contains an astounding 35mg of hyaluronic acid per mL, which is further fortified with antioxidants, peptides, Vitamins A, B, C, E and Zinc. The hyaluronic acid used in the formula is Dp Dermaceuticals' own patented HylaFuse Complex, which contains 3 varying sizes of the HA molecule, allowing it to absorb 150% more effectively that other forms of hyaluronic acid.
MG-HA35+ also contains Calphasomes technology - an advanced delivery technology for both oil and water based bioactives. Calphasomes help enhance penetration, protect and improve barrier function, enhance the integrity of the stratum corneum, and help improve the rate of skin cell regeneration.
Benefits:
All of the benefits of MG-HA35, PLUS...
Helps protect cells from free radical damage
Helps extend the life cycle of healthy skin cells
Visibly reduces the signs of aging
Helps even out skin tone and reduce redness and inflammations
GERANYLGERANYLISOPROPANOL (GGP) - GGP induces the stimulation of a protein which gives protection cells from free radicals by stabilizing the replication or length of telomeres. Due to this protective role, skin barrier function, firmness and elasticity are enhanced, and the anti-aging effect reduces fine lines and wrinkles producing younger, healthier looking skin.
CALPHASOMES (2%) - Hydroxyapatite is a mineral obtained from phosphate rock, which works to protect the skin from the hazardous effects of ultraviolet radiations from the sun. As part of the MG-HA35+ formulation, it is a key component of a specialized dermal delivery system for both oil and water based actives.
CENTELLA ASIATICA EXTRACT - Sourced from a perennial herb that grows primarily in Asia, this is a popular ingredient in Korean skincare which also goes by the names tiger grass, Asiatic pennywort, gotu kola, and its nickname 'cica'. It has anti-inflammatory properties to soothe and heal compromised skin. CENTELLA ASIATICA is a rich source of amino acids, as well as anti-aging agents such as Vitamins A, C, B1, B2, carotene and niacin.
INGREDIENTS: Water, Hydrolyzed Sodium Hyaluronate, Aloe Barbadensis Leaf Juice Powder, Sodium Ascorbyl Phosphate, Sodium Hyaluronate, Hydroxyapatite, Panthenol, Caprylic/Capric Triglyceride, GeranylgeranylisopropanoI(GGP), Ferulic Acid, Glycerin, Retinaldehyde, Palmitoyl Tetrapeptide-7, Polysorbate 20, Zinc PCA, Carbomer, Butylene Glycol, Phospholipids, Retinyl Palmitate, Ascorbyl Palmitate, Beta Carotene, Tocopherol, Phenoxyethanol, Ethylhexylglycerin, Salicylic Acid, Sorbic Acid.
All MG solutions are intended for professional in-clinic use only.
MG-35+ can be used as a stand-alone topical to be infused into the skin during a microneedling treatment, or it can be combined with other MG Collection products at a 1:1 ratio for a customized solution.
To use, apply the appropriate MG solution to one area at a time to cleansed, disinfected skin and proceed with a microneedling treatment as per instructions.
If any treatment solution is left over at the conclusion of the treatment, the resealable, lure-lock compatible top lid enables the practitioner to prescribe any remaining solution to patient post treatments. Remaining solution should be refrigerated until ready for use.