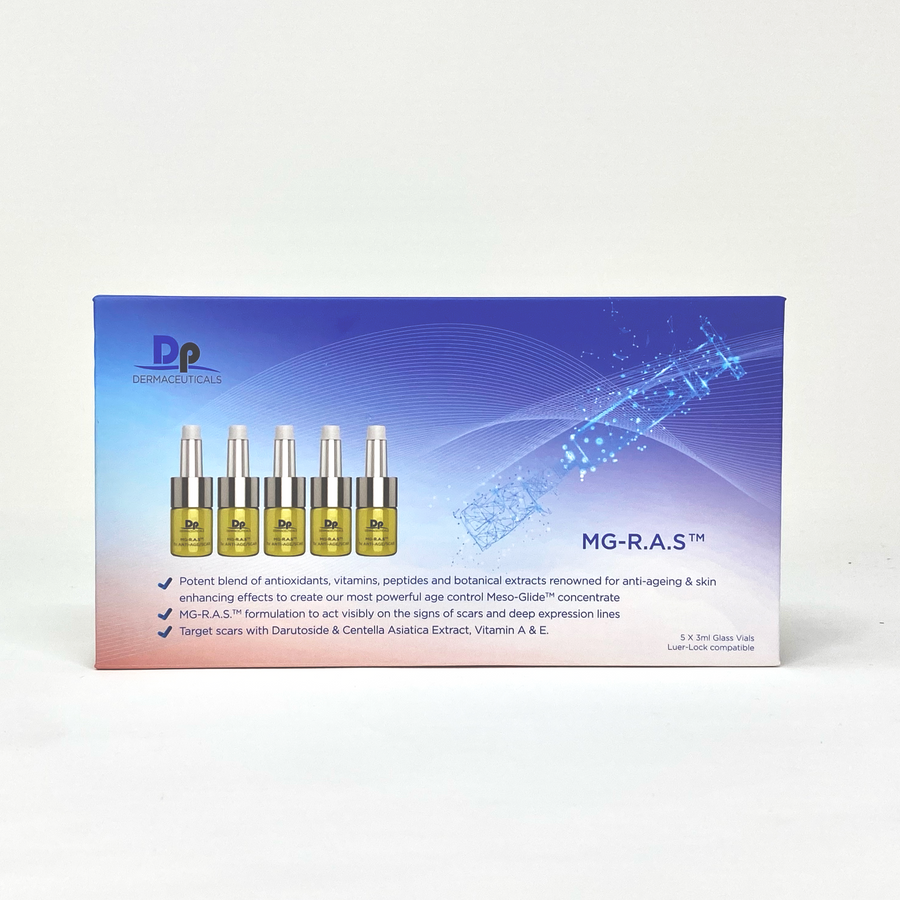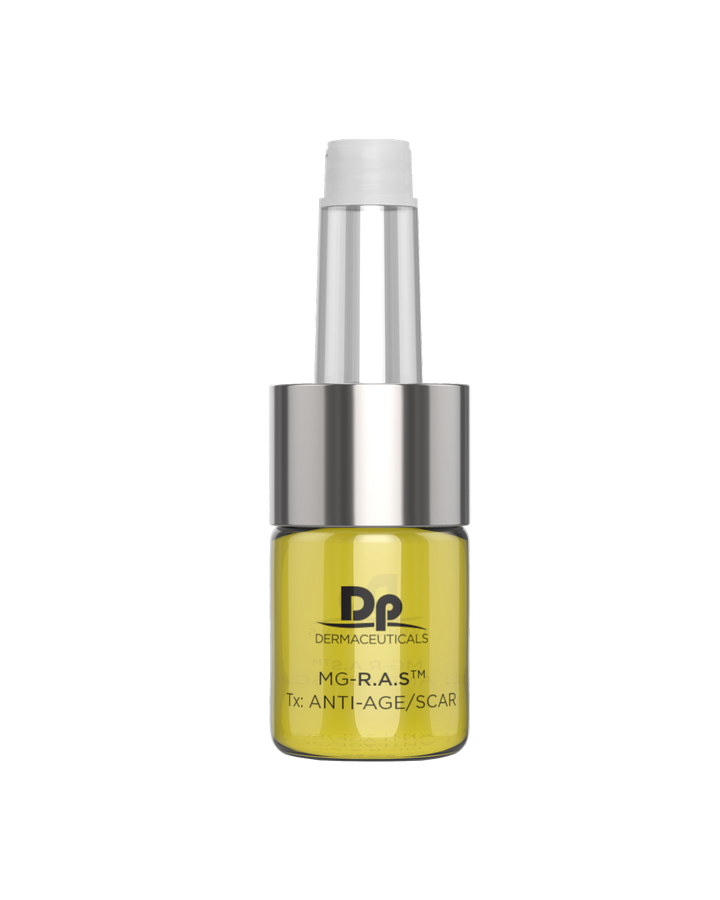 MG-R.A.S (BOX OF 5)
0 ( 0 )
Reverse Aging and Scars with this blend of potent antioxidants, peptides, and botanical extracts.
More Info...
Regular price

Sale price

$104.00
MG-R.A.S.
Our premixed Meso-Glide professional grade solutions offer you convenience as well as a premium formulation in one easy-to-use glass vial. The MG Collection ensures you can deliver biocompatible actives with new cutting-edge technologies safely into the skin. Suitable for use with microneedling, meso-therapy treatments, and other rejuvenation procedures, the MG Collection represents the ultimate standard in infusion protocols.
Packaged to the highest Good Manufacturing Practice (GMP) standards, the sterile pressure-vacuum sealed packaging features a convenient silicone dispenser nozzle with a Iuer-Iock tip, enabling it to be dispensed into an ACM kit receptacle, or drawn up with a sterile luer-Iock syringe for procedural use.
Packaging Features
Individual sterile glass vials.
Squeezable silicone nozzle for easy direct dispensing.
Compatible with Luer-Lock syringes for meso-therapy, or more direct topical placement with cannula.
MG-R.A.S. was designed to improve visible signs of aging and traumatic damage, including deep wrinkles, expression lines, lax skin, scarring, and stretch marks. IN addition to potent botanical extracts, peptides, antioxidants and vitamins, it contains retinaldehyde — the strongest form of Vitamin A available without a prescription. Retinaldehyde is also much better tolerated by the skin than retinoic acid, which makes it perfect for individuals with sensitive skin.
Benefits:
Improves skin tone and texture, restoring a more youthful appearance
Improves firmness and elasticity of the skin
Helps to smooth out scars and reduce the appearance of stretch marks
Rich in antioxidant and anti-inflammatory ingredients
HYALURONIC ACID (HylaFuse Complex) (10mg/mL) - HylaFuse Complex is Dp Dermaceuticals' own uniquely developed hyaluronic acid formulation, which features three varying weights of the hyaluronan molecule. HylaFuse is clinically proven to absorb 150% more effectively into the the skin, meanwhile encapsulating other bioactives, and carrying them deeper into the skin.
RETINALDEHYDE (0.1%) - Retinaldehyde is the most potent form of Vitamin A that is available without a prescription. Retinaldehyde increases cellular turnover while slowing down melanosome transfer for balanced melanogenesis. Perhaps the most important attribute possessed by retinal is its ability to reverse collagen alteration induced by UVA exposure. This process effectively reverses, prevents and repairs extrinsic aging of the skin. As retinaldehyde attaches to cellular retinoid receptors, it further enables regulated cell shape and form.
CENTELLA ASIATICA EXTRACT (3%) - Sourced from a perennial herb that grows primarily in Asia, this is a popular ingredient in Korean skincare and also goes by the names tiger grass, Asiatic pennywort, gotu kola, and its nickname 'cica'. It has anti-inflammatory properties to help soothe and heal compromised skin, such as burns, eczema and psoriasis.
DARUTOSIDE (2.5%) - Darutoside has regenerating cell, anti-inflammatory and wound-healing properties, which is why it is used in the treatment of stretch marks. It is also used to assist with firming the skin and as an anti-aging agent. It has been shown to increase the production of collagen.
INGREDIENTS: Water, Glycerin, Lentinus Edodes Mycelium Extract, Butylene Glycol, Sodium Hyaluronate, Hyaluronic Acid,Methylglucoside Phosphate, Copper Lysinate/Prolinate, Pentapeptide-18, Retinaldehyde, Copper tripeptide-1/ Bis(tripeptide-1) copper acetate, Azadirachta Indica (Neem) Extract, Darutoside, Centella Asiatica Extract, Tocopheryl Acetate, Polysorbate 20, Xanthan Gum, Phenoxyethanol, Caprylyl Glycol, Ethylhexylglycerin
All MG solutions are intended for professional in-clinic use only.
Each MG solution can be used as a stand-alone topical to be infused into the skin during a microneedling treatment, or it can be combined with MG-HA35 or MG-35+ at a 1:1 ratio.
To use, apply the appropriate MG solution to one area at a time to cleansed, disinfected skin and proceed with a microneedling treatment as per instructions.
If any treatment solution is left over at the conclusion of the treatment, the resealable, lure-lock compatible top lid enables the practitioner to prescribe any remaining solution to patient post treatments. Remaining solution should be refrigerated until ready for use.